Reading to Kids Benefits Brain Development, Says New Study
A new study found that reading regularly to children enables them to better use their brain to process stories. Learn more about the study and what it found in our blog!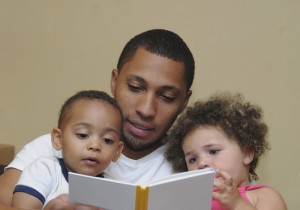 Reading to Kids Benefits Brain Development
The study was conducted by the Cincinnati Children's Hospital Medical Center, and used functional magnetic resonance imaging (fMRI) to examine the brains of 19 children between the ages of 3 and 5 years old.
The children listened to a story on headphones while the fMRI conducted a brain scan. The story was in audio form only, meaning no pictures or text.
The fMRI "showed a strong association between reading and activity in the area of the brain responsible for semantic processing, or the comprehension of language meaning," according to Fox News. Basically, this means that kids who were read to by their parents were better able to understand the language they heard.
In addition to the semantic processing area of the brain, children who had been read to by their parents also showed high activity in the lateral occipital sulcus. This part of the brain supports mental imagery, which is the ability for the brain to visualize the story. This is especially important to develop as children move on from picture books to books with words only.
Parents and Kids Both Prefer Print
In related news, parents and kids both prefer reading print books over e-books when they read together, according to a study produced by the Joan Ganz Cooney Center at Sesame Workshop.
"Nearly three-quarters of iPad owners who read e-books with their children prefer reading print books with them to e-books; and about half of children say the same thing. Meanwhile, less than 10% of both children and parents prefer to read e-books when they read together," according to Digital Book World.
Parents cited a number of reasons for preferring print, including the fact that their parents read print to them, and concerns over kids getting distracted by the digital games found in some e-books.
Other Print News
Be sure to check out some of our other blogs on the latest print news!
Sales of Children's Books See Significant Growth
Coloring Books for Adults Top the Best Sellers List on Amazon U.K.
Print: For Better Studying and Sleep
Make sure to keep up with Advantage Book Binding for all the latest news in the publishing industry!
Advantage Book Binding can help you take your book binding project to the next level, taking into consideration budget requirements to provide you with the most cost-effective and project-specific solution for you. Please contact us today for more information, and keep up with us on Facebook, Google +, Twitter, and LinkedIn.