Book Film Laminating & Book UV Coating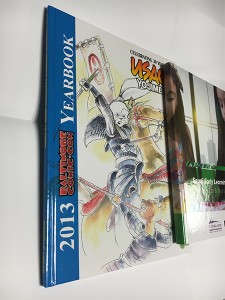 Advantage Book Binding offers a full range of film laminated and UV coating to help protect and decorate your covers, posters, cards, and brochures. From one-sided lay flat lamination to two-side lamination up to 5 mil., Advantage Book Binding can handle all of your needs.
Protect your books from becoming washed out in bright sunlight. Many people enjoy reading outdoors or on the beach, and the UV rays can easily damage covers just as well as they damage skin. Avoid this risk by adding a UV coating to a novel.
Film lamination adds a shiny, attractive covering to your book or paper product that can really make it pop and stand out. The colors will appear brighter with light reflection and it can add a lot of fun to an art or children's book. The laminated film protects the cover of your book from becoming stained, water damaged, or faded as well.