Custom Books Make a Great Holiday Gift!
The holidays are here, which means it's gift shopping time. If you're looking for the perfect gift for your friend or family member, have you considered a custom book? Custom books are a great gift for that book lover who has a special place in your heart. Customize their favorite book to make it a unique version that stands out, or give them a creation of your own that is one-of-a-kind. Learn more about custom gift books below!
Custom Books
Looking to customize someone's favorite book? There are plenty of ways you can do so. Foil stamping, for example, can add a custom foil stamp on the binding, marking the book as their own. Custom handwork can be used to create beautiful sewn designs in the binding. Create a custom dust jacket with your own design and a die cut hole to reveal the binding work. Custom cases can also be produced to make a perfect accompaniment to the book. Custom cases protect the book and serve as another creative project in and of themselves. And these are just a few of the options you have. To learn more about how to customize a special book, contact us today.
Starting from Scratch?
Do you have an idea for a book project that you want to give as a gift? Let us help you design it from scratch. We can help you select the right binding style and custom attributes to go along with it. Our experience in book binding means we know what works best for your project's needs.
Book Repair
Another idea for a book-related gift is to repair a favorite book. Advantage Book Binding does book repair including Bible repair, so you can restore your loved one's favorite book to it's former condition.
Even More Custom Book Gift Ideas
For even more custom book gift ideas, consider designing a photo album, family tree book, or custom journal. We'll help you design your project for the ultimate in form and function. You can read more about some of our custom book gift ideas in our blog. And don't forget, a gift certificate always makes a great gift too!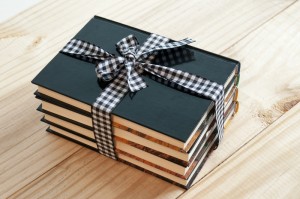 This holiday season, give your family and friends a gift that is meant to last. To learn more about our gift books, contact us today!