This New Year, Resolve to Cultivate A Love of Reading in Your Children
With 2016 fast approaching, many people are beginning to think about their resolutions going into the new year. While many resolutions will focus on health and dieting, resolving to cultivate a love of reading in your children is a gift that will serve them throughout their lives. Why is reading so important for children? Read on to learn more.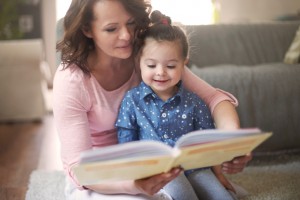 This New Year, Resolve to Cultivate A Love of Reading in Your Children
Reading inspires imagination
Making time to read aloud to your children every night not only allows for precious bonding time, but will also expand their worlds, inspire their imagination and creativity, and transform their thinking. The creativity sparked in childhood can lead to innovative and out-of-the-box thinking in adulthood which are traits that are sorely needed in our rapidly changing world.
Reading encourages empathy
When children read stories about characters who are unlike them, they begin to develop natural empathy and an ability to put themselves in the shoes of others. Empathy can be a difficult trait to encourage, but reading widely and often can inspire it to be cultivated naturally, without your child ever knowing it.
Reading opens new worlds
Fictional books create new worlds that allow your child to re-imagine the one they're living in. Armed with the knowledge that other worlds are possible, they grow up to become adults who do not simply accept what they see but actively try to make it better.
Let your child choose what they want to read
If you truly want to nurture a love of reading, it's important to choose books that your child enjoys rather than what you think they would like or what you believe they "should" be reading. By stifling their ability to explore novels that are meaningful to them, children can quickly learn to resent books and learn that reading must be a dull chore. All reading is good reading so allow their imaginations to run in the direction that they would like them to go by letting them choose their own books.
Advantage Book Binding
Advantage Book Binding can help you take your book binding project to a new level, taking into consideration budget requirements to provide you with the most cost-effective and project-specific solution for you. Please contact us today for more information, and keep up with us on Facebook, Google +, Twitter, and LinkedIn.