How Physical Books Differ From E-Readers
One question that has been raised as a result of the new popularity of e-readers such as Amazon's Kindle and Barnes and Nobles' Nook is, how does the value of these devices compare to books, specifically, with regard to their physical nature? An e-reader may have the ability to store thousands of books for quick and easy access, but it sacrifices the physical qualities that make the stories it contains not just stories, but books.
Books contain stories for us to enjoy, but the physical book itself has a story to tell as well. Maybe it was a gift from a close friend, or perhaps borrowed from the library and never returned. Maybe it has a coffee stain on it from a reading session in a cafe in a far away locale, or maybe the reader marked it up in his or her inimitable handwriting. Books have smells and textures and earmarks and even sounds from a binding that creaks when opened after years on the shelf. These are the things that make their histories come alive for anyone who picks them up. The collection of books that a person owns speaks volumes (if you'll pardon the pun) about who they are.
E-books have their benefits, but they won't tell you the nature of the relationship between the reader and the stories he or she read. Physical books give this relationship a physical and tangible quality, and that's something that really can't be replaced. In an interview (link to interview here) concerning e-books, columnist Danny Heitman talks about how physical books allow us to experience this relationship from a third party perspective. In this quote from the interview, he talks about how the books he received from an aunt in her will gave her more insight as to who she was. "Whether she was reading about poetry or about history or about art, she had an enormous curiosity. A library is really a tangible testament of intellectual adventures that we have, and it is an open invitation for us to extend that legacy. By dipping into these books and reading the same words that our ancestors read, it's a wonderful thing."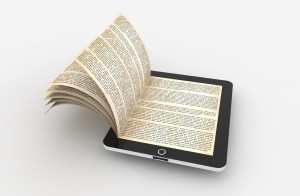 Advantage Book Binding has been in the book binding business since 1985, when we were founded on the principle "we do a quality book on time." Since then we've seen plenty of changes both in and out of the industry. While some have sounded the death knell for books and other physical media, we believe that the fact that we continue to be an industry leader into the 21st century is a testament not only to our longevity as a company but to that of our craft. We think it's important to keep books and physical media on the shelves, which is why we dedicate ourselves to providing you with the highest quality book binding and post press services available.
Keep up with us on Facebook, Google +, Twitter, and LinkedIn, and feel free to share your thoughts with us in the comments.
Source