Are Printed Pages Eco-Friendly?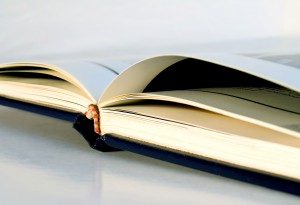 Many of today's consumers are concerned about the long term impact of the products we purchase and the companies that we support. It is a reasonable concern and the digital age is quick to answer that everything should be in digital format. Though e-books may seem like the only eco-friendly option, this simply isn't true. Printed products are very sustainable and today, we're going to tell you how. Let's get started.
There are a lot of misconceptions about paper production.
People think that going paperless and halting the use of paper products is the only eco-friendly option in today's world. This is simple not true. After all, North American forests are a sustainable resource rather than a finite one.
"Over the last six decades, the net total U.S. forest area has increased by over 3% and the net volume of trees on timberland has increased by 58%. In Canada, the forest cover has remained stable over the last two decades and less than 0.5% of Canada's forest resource is harvested each year."
             – USDA Forest Service, 2012 and Natural Resources Canada, Canadian Forest Service, 2014
All this to say that our forests aren't in danger of being consumed. They are thriving. Not only that, but paper is one of the most recycled resources according to the U.S. Environmental Protection Agency.
E-media has environmental impacts of its own.
Though this may seem counter-intuitive, digital products are not without an environmental impact. After all, digital equipment either in a small network or in a large database, requires electricity. The more digital demands rise, the more electricity is required to meet those needs.
"It is estimated that small network equipment in America's homes consumed more than $1 billion worth of electricity in 2012, equivalent to the output of three large (500 MW) coal fired power plants. This resulted in 5 million metric tons of CO2 emissions or the annual tailpipe emissions of 1.1 million vehicles."
             – Natural Resources Defense Council, 2013
At the end of the day, being eco-friendly is not synonomous with "going paperless." It is a practice that is created through sustainable practices and conscious consumers.
Advantage Book Binding can help you create the printed book you've always wanted!
Are you interested in having a bound novel?  Are you entering the workforce, interested in a bound portfolio to showcase your work?  Advantage Book Binding offers plenty of services and binding types that are perfect for suiting your needs. We also offer specialty binding options for those of you looking for something extra special.
Advantage Book Binding can advise you as to what kind of binding style will work best for your specific project, taking into consideration budget requirements to provide you with the most cost-effective and project-specific solution for you. Please contact us today for more information, and keep up with us on Facebook, Google +, Twitter, and LinkedIn.